I'm utterly thrilled to have come second place in the Photography Oxford Festival/Photocrowd juried vote in their competition on the theme of Glass with the piece look/see/in/out. As a result it will be exhibited at Photography Oxford 2014.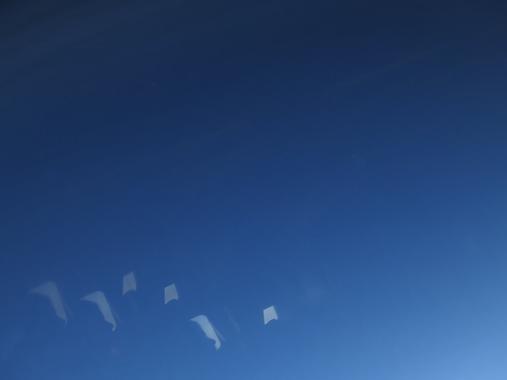 © Martin Lau
From the review on Photocrowd:
This was the simplest submission of all. Well before we read the photographer's notes on this image, we are drawn to its compelling sparseness and ambiguity. There are only two compositional features: the field of blue and the six white scattered fragments. The immaculate gradation of the blue belongs to the perfect sky that is a universal motif we all respond to. It takes time to decipher the white fragments – unnatural clouds? Shards? Not quite random… The liminal quality of glass is successfully revealed – the sky lies beyond, the reflections come from within, and the glass makes an almost immaterial boundary. The photographer says he saw 'dancing alien lights in the sky' when in fact they are repetitious reflections of a fellow traveller in a window. This beautiful image is so simple and vibrant, it thoroughly deserves second place.
Also in the recent Body Parts contest on Photocrowd I received a commendation from the panel for this piece: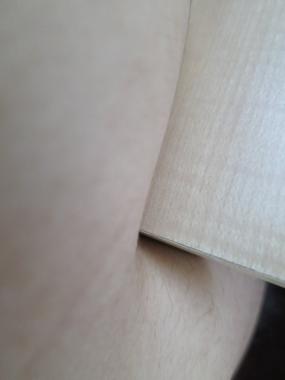 © martin lau
The accompanying review:
I love this shot because again it's not an obvious body part. It's just using a body part as a surface. In a way it's how I would have liked to see some of the nudes done in the contest – more abstract and less obvious. I'm guessing that it looks like a stomach and a piece of melamine shelf, and why not? It's almost a sort of sculpture with a bit of a human body and a piece of wood. It feels inventive to me and well worth a commendation.